Find your knife production date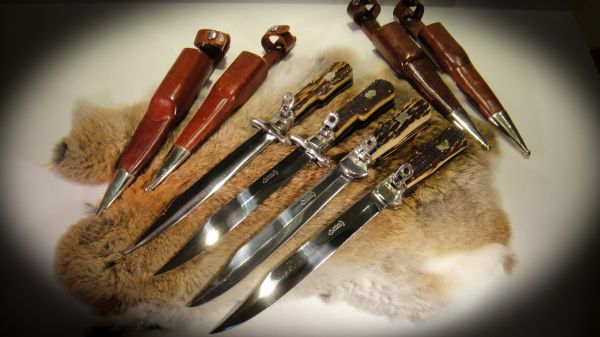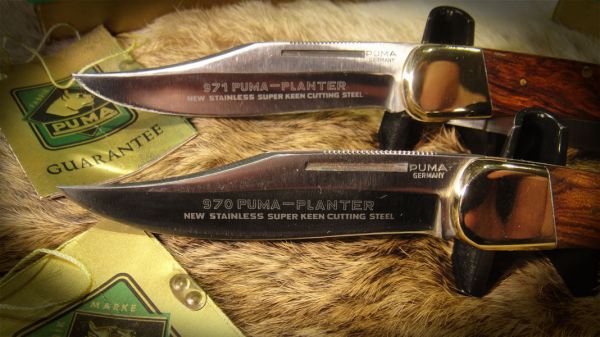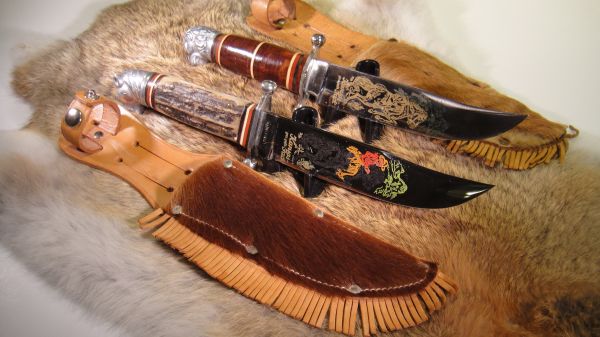 Prev
Next
our

story

When evaluating the condition of a knife, it is good to look at the standards adopted by the National Knife Collectors Association (NKCA).

The following assumes mint is 100%.
New

Manufactures Suggested List Price, or less

Pristine Mint

100% plus

Mint

100%

Near Mint

80-90%

Excellent

50-70%

Very Good

40-50%

Good

25%

Poor

5-10%

Junk

under $10.00
As an example a near mint knife is worth 10% to 20% less than a mint knife. A excellent knife is worth 30% to 50% less than a mint knife. A knife in very good condition is worth 50% to 60% less than a mint knife. A good knife is worth 75% less than a mint knife. A poor knife is worth 90% to 95% less than a mint knife.
For years the standard for knife collectors has been the National Knife Collectors Association grading, established in 1973. Basically it is a sound grading standard, but as collecting has advanced many dealers adapted additional descriptions, and the overall collecting field has changed, to the point that many dealers feel there should be a more detailed grading system. The basic grading standards have been left intact, but what follows is a clarification and enhancement of those standards, and also the reasons for the revisions.
Cracks. One important exception: Cracks will occur in mint knives. If it is mint for everything except a crack, the knife is still mint-it is only mint with a crack. This should downgrade the value approximately 10% on most knives.
New: Never sold to a customer and never used. New as shipped by the manufacturer or distributor with all original packing (box, sheath, etc.) and instructions. Knives or any merchandise sold as "New" must be eligible for full warranty service from the officially authorized importer, distributor, or factory in the USA. New is what most knife stores sell and they are generally current production knives.

Pristine Mint: The coin world would call this MS-65-70, the ultimate in quality and condition and not just mint, but mint plus something, good fit, no specks on a very old knife, etc. Suffice to say there are very, very few of these out there. Perfect plus.
Mint: The standard mint, not sharpened, never used, and never carried extensively.
Revision: Almost any knife made prior to World War II is going to have some rust specks here and there. If you only wait for mint knives with no rust specks, for instance, you are going to get very few. Some knives that were mint in 1970 have now been in storage for over 30 years and they are starting to show some neglect spots here and there as well. I look for this to get worse in the future, since few collectors pay the attention they should to the maintenance of knives in their possession.

Near Mint: Nothing wrong with the knife, sharpened but no blade wear, some original polish still visible, carry scratches on the outside, no deep rust pits, full blades. (A mint knife that has rusted and been cleaned back to near perfect shape is near mint.)
Excellent: 5-10% blade wear, blades snap, some tarnish, and light pitting possible. A good solid lightly used knife. On a multi-blade knife, some of the smaller blades may still be near mint. Tang mark clear. Master blade not over 10% short.
Very Good: More blade wear than excellent, 15-25% wear, some blades may be slow, stamping readable but faint, some distinct cracks but no chips out of handle that have not been repaired. Blades still sound but may be slow. Some rust pitting and tarnish. Master blade may be short.
Good: NKCA standards refer to this as Fair, which I always confused with poor. Simply Good is worse than Very Good. 25%-50% blade wear, maybe a chip missing, replaced handles or blade is evident, but still able to identify maker, still useable as a working knife. Blades may be very slow. Deep pits and rust. Still has all the blades, even though worn and short.
Poor: Blades over 50% gone, usually short, handle may be chipped, one blade broken, blades lazy, tang mark just barely readable. Still useable for parts
Junk: (Not priced and no one I know collects them, but you do see them traded for $1.00-$10.00 each. Blades broken, one handle missing, all that is useable is bolsters, liners, and back spring. Maybe an old name or style.
There are two very common questions I receive, almost daily. Can you help me identify this knife ? What is my knife worth ? In this article, I am going to address the later, the worth of a knife. It is complicated and deeply subjective anytime that it is asked and answered. Here is why…..
To a collector, there are several factors which affect the value of a knife. The Age, Condition and Rarity. Also, additionally, is it complete with the correct box, warranty card ( if applicable ) and other paperwork ?
The AGE. If they thought about it, most collectors would agree that a knife produced in the 1969 should be worth more in than one made in 1999. Not many people give it much thought, but should. It is more logical that early and old survivors in excellent condition should bring a premium price when compared to an equivalent one made only a few years ago. It was an age that most knives were bought to be used and not collected making them rare survivors.
The CONDITION. The most important aspect of determining price is the condition of the piece, especially the condition of the blade. Like the numismatic market for coins, prices for knives drop dramatically for flaws, especially controllable ones like rust and corrosion if allowed to occur on the blade. The term, Mint, Near Mint, Excellent, Good. Fair and Poor are all terms used in describing the blade. All of these terms are associated with price drops along the way down. In my opinion, pieces solely made for the collectors market, should be in Mint to Near Mint condition to be accepted by most collectors since they were never intended to be used. There is no good reason for them to be otherwise.
The RARITY. There are some Puma models, that for one reason or another, were never in high demand with hunter's or dealers or distributors. These models, typically, were only made for a few years before halting production. In most cases during these years, production numbers suffered low demand, leading to managements decisions to stop production. They all can't be winners, right ? I will give you a few examples. The Falknersheil, the Left Handed Trapper and the Alaskan. All of these models had one thing in common. Low numbers. There were not many people practicing Falconry to buy them. How many left-handed Trappers do you really know ? What killed the Alaskan, in my opinion was poor demand due to a poor blade design. It just was not accepted by the hunting community.
So, conceptually and to the point of all of this. Prices should go through the roof for collectors if you have an OLD knife, In Mint condition that is extremely Rare. RIGHT ?
Here is where it gets complicated and the reason I flinch every time I get asked the question, What is my knife worth ?
AGE. Prices should, but in most cases, do not increase with age, at least appreciably. Age does not represent money in the bank. A Hunter's Companion, from the 60's , for example, is not priced appreciably higher than the one from the 80's. It is very wrong but it is the reality of the situation. Additionally, even though they were made in the 40′ and 50's Scout knives just don't bring a lot of money in. They were mass-produced, there are many out there and they are very popular with just a few people. Maybe that will change, maybe not.
CONDITION. Beauty is in the eyes of the beholder. What I call in Mint Condition may not viewed the same way by another person. We cannot agree on the standard by which blades are evaluated. For better or worse, some are more or less stricter in their concept of blade condition. It is a very subjective mater to each person. Seller's and buyer's must come to an agreement on the condition and therefore the price associated with that condition. I have talked to some sellers who insisted that the blade is Excellent only to get it in a used and sharpened condition.
RARITY. Finally, we all can agree to something ! Typically, we can usually all agree to what is rare and isn't. It is based on facts and numbers in most cases. If you don't see one on eBay in a few years, you know it is rare. One can make the case for this. But that brings up the final point. Do we really agree on what something should cost if it is rare. I think not !
I will say this to answer to finally answer the question ! Your knife is worth what you are willing to sell it for and what someone else is willing to pay for it. That, in a nutshell, is what your knife is worth. It is subjective and the price fluctuates, sometime wildly. It depends on where you are in the world, what your economy is doing, where collectors are heading. The age, the condition and the rarity are all important . Oh, and by the way, you should have the original box and paperwork because in the last few years, collectors have begun to insist on it. That affects the price too.
I think, for some, this will be a let down to find out there is no easy or definitive answer but that is the reality of it all and the reason I flinch a little… when asked the question; what is my knife worth ?
All of this, of course, is just my opinion.
In the fourth quarter of 1964, PUMA implemented a new control system. This control system helped establish quality control measures in production activities. For older knives the code itself is a 5 digit number. Beginning in 2002, the code was changed to 3 digits. Then again, in 2007, it was further reduced to 2 digits.
The Control number, also known as the Production Code or the Date Code is located on different locations, depending on the model. For older fixed blade knives. in most cases, you can find the code on the finger guard near the blade. In some cases, the code was stamped into the handle of the knife on wood handled models. On folding knives with blade locks, the Control Number was stamped on the Spring lock where you depress to close the blade. The smaller folder without locks, the number was stamped on the inside of the brass liner. On the Waidmesser knife you can find it stamped on the brass where the corkscrew is. For newer knives made after 2002, the Control Number is etched on the blade. It will look similar to this, 103 / RC. You may have to look over your knife carefully to find the number.
Not all knives have Control Numbers. Those knives made before the Fourth Quarter of 1964 are considered to be Pre-64 models. The list is small but there are also knives with no Control number. The SkinMaster and all of the Scout Models are examples of knives with no Control Number. The Scout knives are very difficult to date since they were made generally from the 1940′ s through the mid 1990's; a span of 50 years.
You can use the internal App on our website to determine the date of your knife. Look for it under our menu system on the left. Finding your Knife Production Date.
Or, you can do it below with these charts. Click on them to make them bigger.